Well, I suppose I can talk about everything that's going on!

1. Teen Style Magazine is having a Top Model competition! Here's how to enter:
a) Get your Medoll ready for New Year's Eve; in whatever you think is right for the occasion.
b) Write a few words describing your outfit.
c) Take a screen shot of your Medoll, and save it on your computer.
d) Lastly, send the picture as an attachment (along with the description, and your Stardoll name) to Selena's e-mail address:


TeenStyleMagazine@Gmail.com


The winner will appear in a special New Year's Eve article.
[Thanks to perezhiltonofstardoll.blogspot.com for the info]

2. Burn Book Bitch's Spoiler and Betrayal:

After spilling the spoiler secret, and ruining the suprises of spoiler clothes on SFF, BBB has now shown us her identity. She goes by xox-DIOR-xox. To me she looks rather normal, but if you take a look at her explicit sceneries, you might say this girl has issues.
Also, I saw her wearing these items that I've never seen before. I mean, of course they're adorable, but I'm wondering; is she involved with the loophole? These are the items I saw in her suite: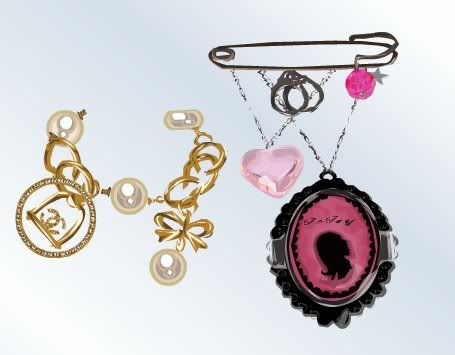 As you can see, the bracelet is CHANEL! And, the pin is themed after the hotbuys.
I say LOOPHOLE, but I could be wrong...
Have YOU seen these items?
[ Update NOV.17, I have found out these were superstar gifts from long ago. Shows how smart I am, haha.]
That's all for now!
Kisses,
Shelby_2007
[PS. TOXIC Magazine is finished and ill be having a release party! We haven't sorted out the dates, but are YOU up for a party?! Tell me, just to see if we think there will be a good turnout!]