Next Stop on our tour of the Fashion Cities is Marrakesh, Morocco.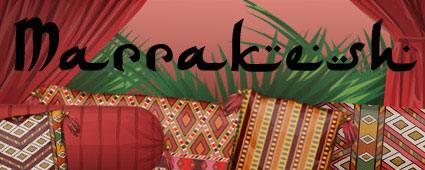 If you've been to Disney land, or Morocco you have some Idea of what this style is.
It's all about the textures and textiles.
Here's what Isobel has to say about this new trend:
"
Marrakesh Styled Outfits Styled Outfits travels to Marrakesh for a marketplace full of many-printed, many-textured, arty-ethnic textiles: on the lighter side there are chiffon sheaths, tunics and floor-length dresses and to bundle up for winter in mosaic-print skirts, fur-lined coats and sumptuous suede boots. Inspired by designers such as Dries van Noten, D&G and Gucci Marrakesh Fashion City is in sync with the current avant-garde edge of fashion exploring texture and pattern in robe dresses, knee-high boots, tassles, shearling and curly lamb - virtual, of course.
"
Personally I love the mixture of the blue dress and fur vest located on page 3 of the column in the Voice.
Looks like a some fun with patterns here in Marrakesh!
Stay tuned for more days on the streets of
Paris
.
Much love. .
Paris♥